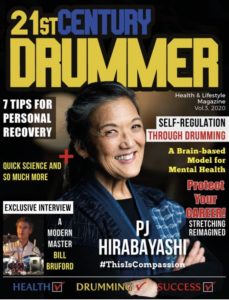 You're a drummer, an influencer, a mood maker. You draw in, captivate others, to flow with your rhythm. With precise timing, yours is the driving force behind the band. Whether soft pocket or infectious groove, you carefully and energetically speak with your entire body to move the band and the audience.Drummers all know that incomparably joyous feeling of being in the flow, playing powerfully yet effortlessly in time. It's almost transcendent. Yet getting swept into the rip current of such a flow can easily create a wave of excitement that washes over us and drowns our inner voice of sensibility. We can then be carried over the edge from enthusiastically playing into the territory of limited mobility because of injury or repetitive strain.
Drummers all know that performance-related ache or severe pain. Like arms, wrists, knees, backs so sore when there is another full set to go. Pain/disability or fear of return of pain compromises posture and range of motion as we seek to protect ourselves from a sharp twinge. The shift in our posture itself may contribute to pain if it becomes habitual.
The pain affects the emotions, diverts the concentration, limits the angle, speed and the force of the playing, and may skew the timing too. Ongoing discomfort influences the soul beat produced by the drummer and the subliminally perceived milliseconds of beat strike timing. As the drummer leads, so goes the band, so goes the audience. How then can drummers ensure access to their power while maintaining acute awareness of their edges?
Drummers all know that they must stay flexible, comfortable and balanced to maintain stamina and focus. Keen body awareness, stable postures, proper alignment techniques in the forceful repetitive movements are just a few of the factors contributing to the ability of the drummer to maximize his performance potential.
Stability, suppleness, flexibility, alignment, strength, endurance, focus, mindfulness and more – Yoga offers these benefits. Yoga aligns, strengthens and stretches, and enhances focus, allowing for greater enthusiasm and bandwidth for all endeavors. Yoga prepares body and mind before a performance and can re-balance afterward, helping de-stress the tense, tired muscles and mind. Yoga is relief after the hours perched on a drum stool, driving the band and moving the audience to new emotional destinations.
Maximizing your potential and minimizing your likelihood of performance related injury, Yoga is your silent band mate. Drumming isn't mechanical, it's humanly physical and emotional. Emotion follows motion. Emotion can also lead motion. When our motions cause us pain or when we are fearful of creating pain in our bodies, we are reluctant to move freely physically as well as emotionally. What we sense as discomfort stifles our activity, hangs over our expressions, prevents us from opening up to receive and eagerly enter into the now moment. With pain, we're incapable of getting into the desired state of flow with our drumming.
Just what are the odds of sustaining a performance related injury?
In her extensive survey of drummers world-wide, Dr. Nadia Azar found that a high percentage of drummers from all walks and experience levels from various cultures, of many ages, and playing different styles, reported suffering from at least one Performance Related Musculoskeletal Disorder (PRMD), as she has termed them. Many suffered from multiple PRMD's. Check out her article The
Ergonomics of Drumming, 10 Ways to Reduce Injury Risk, in the fabulous new bi-annual publication, 21st Century Drummer published by Pamela Lynn Seraphine.
In addition to functional limitation caused by painful PRMDs, limiting, protective bracing patterns may continue to develop. With limited range of motion a drummer may play with excessive force to achieve desired results – speed or volume for example, and this may perpetuate the cycle.
The potential fall-out from such PMRD's runs much deeper but, to start, here are the outcomes from her survey as cited in 21st Century Drummer Vol 2: Of the 865 drummers from 49 countries around the world that responded to her survey, she found that:
68% – Had at least one PRMD during their drumming career.
59% – Had multiple PRMD's (Yikes!)
59% – Cited the arm as the area most injured
25% – Suffered from wrist issues
24% – Suffered from back issues
If you consider the size of the global drumming community is in the millions, this means that many of us will experience preventable discomfort during our drumming career.
Here's just one possible scenario:
Based on YouTube subscriptions, there are over two million* drummers participating online – if the above injury outcome statistics were applied to the entire population, the numbers of those developing injuries would be alarming…
1.42 Million with one injury;
1.21 Million with multiple injuries;
1.24 Million playing with sub-optimal arms, and missing out on the joy of swinging them around.
525,000 sub-optimal wrists and,
504,000 back pain sufferers….This is where things get scary…
*Coop3rDrumm3r Youtube channel subscribers
Just thinking about this hurts. Such overwhelming suffering, much if not most of it preventable. In other estimates which may include drummer fall out, Blue Cross and Blue Shield estimates that thirteen million (13,000,000) people go to the doctor each year for back pain – some of those are drummers. They also estimate that the cost of a doctor visit for back pain is between $130-$180. This, too, is painful to swallow – not to mention the cost of performance downtime because of pain and, most painful of all, the suffering itself. If the back pain sufferers all went to doctors, they would be laying out $65,000,000 for their initial visits. It gets more complicated from here. Way more complicated and risky too.
With the 'show must go on' ethic so valued in the entertainment industry or with screaming pain that cries out for relief just to lay himself down, in the absence of a natural solution, the drummer most likely needs pain medication or muscle relaxants. Opioid medications are commonly prescribed. This potentially exposes the drummer to pharmaceutical misuse, abuse, or addiction.
According to the drugabuse.gov statistics on opioids, patients are more vulnerable to addiction than they think are. Researchers report that opioid addiction can occur in as little as five days. Many on-line references regarding back pain state that general or mid-level back strain can take up two weeks to settle down and pain from the more severe back strain can take up to six weeks. These recovery times far exceed the fragile limits of addiction resistance for some. Further, demanding performance schedules don't allow for proper rest or recovery.
Applying the government statistics to those presented by Dr. Azar on our 2 million strong drumming population, in particular just the back pain folks who number about 500,000, we get these numbers:
21-29% – 125,000 drummers – will misuse prescription pain killers
8-12% – 40,000-60,000 drummers – will develop opioid disorder, addiction
4-6% – 10,000-30,000 drummers who misuse will transition to heroin
To note, 80% of current heroin addicts started with prescription opioids.
Again, the calculations above represent only the back pain sufferers. Shoulder, arm, wrist pain – pain anywhere can limit mobility and be too excruciating to allow for sleep. The potential exposure to addiction risk runs even higher.
Wrist injury for a drummer is like saying, 'It only hurts when I breathe.' Wrists are always on a drummer's radar. Along with incapacitating physical pain, there is emotional anguish, worry like When the pain will end? I'm not practicing- how long will it take for me to get up to speed again? Will I even ever recover? How am I going to pay the bills? Mental stress all by itself can steal the sleep.
Without natural ways of prevention and natural adjunctive effective ways for rehabilitating injury and handling pain, drummers are unnecessarily being exposed to potential harm and far reaching negative outcomes.
There doesn't have to be such a shadow side to drumming. Yoga will help ensure comfortable drumming longevity as it creates more body awareness, increases flexibility, joint mobility and helps stabilize the breath, all of which will increase your capacity to freely emote and perform confidently behind the kit.
When a drummer practices yoga properly, awareness of breath-facilitated movement becomes enhanced. This also becomes part of his drumming style. Preventative measures become automatic, set in place, with resilience and self-awareness reducing the likelihood of performance related injury and pain. Professional athletes and the military are now practicing yoga to achieve these effects. Dr. Azar places drummers at the level of many athletes. Her calorie burn studies show this.
As a yoga practitioner, the drummer takes inventory of how his drumming practice, style and technique are affecting his body. Yoga follows a symmetrical and balanced format of movement exploration which exposes and highlights left to right muscular imbalances. After time at the kit, or at any time, a drummer can reorganize and balance muscle patterning and thus minimizing pain and functional limitation.
With more proprioceptive awareness and input, drummers can make better choices about what is working or not working for them at their kits. Like all professional athletes, we drummers need to protect ourselves from performance related injury and pain and to reduce our recovery time after sustained physical exertion.
This will ensure we're on top of our drumming game and loving it as much as possible. To deliver our best to our audiences, we need to deliver the best to ourselves first.